"Business Partner search for the Sports industry in Central Europe"



You are here »
Home Page
»
Industry Sectors
» Terraplas plc
Terraplas plc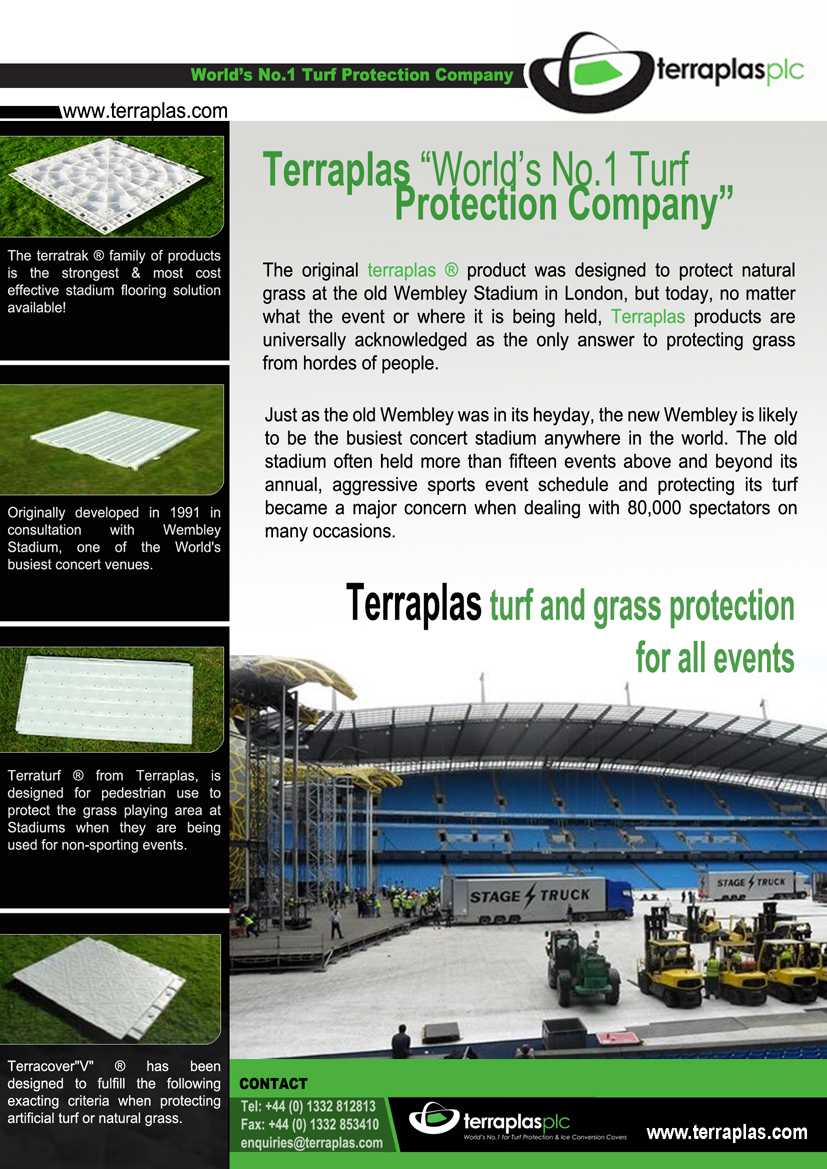 The original terraplas ® product was created to protect the natural grass at the old Wembley Stadium in London in 1991 , nowadays , irrespective of the occasion or where it is being held , Terraplas products are globally recognized as the primarily solution to safeguarding grass from large numbers of people . As the old Wembley was in its heyday, the new Wembley is likely to be the busiest live performance stadium anywhere in the world. The old stadium frequently organized a lot more than 15 events above and beyond its yearly , aggressive sports event schedule so protecting its hallow turf turned out to be a significant issue when dealing with 80 ,000 spectators on most occasions .
Spotlight on Terraplas plc
The growth and development of terraflor ® and terratile ® protection tiles was an organic development to satisfy the requirements of the present day market. Just liketerraplas ® , they have a hollow bottom that permits a critical height for natural grass to breathe and cultivate beneath them . This excellent design allows the flow of air and light through the tiles, hence reducing yellowing of the guarded turf. In reality, when it comes to natural turf, it works similar to a garden greenhouse which actuallypromotes growth . Hardly any other method has this capability so terraflor ®/terratile ® will consequently protect grass for considerably longer periods of time than almost every other product on the market.
terraflor ®/terratile ® are strong , completely interlocking flooring solutions which have been designed with safety very much in consideration . When fitted, it ensures there are no tripping hazards, similar to those connected with tarpaulins etc . The surface of each floor tile includes an integral anti-slip surface and each tile interlocks and overlaps with its adjacent tiles to ensure the safest walking conditions, even if wet. However terraflor ®/terratile ® will not only safeguard natural grass, they will alsopreserve synthetic surfaces.
Terraplas plc has been in the turf protection business for more than 20 years , and have been tremendously successful in designing and manufacturing the most in-demandprotection products across the world – so much so that it proudly uses the slogan 'World's No .1 Turf Protection Company' .
Each and every stadium seeks out solutions to improve their revenue and, there is absolutely no question that , the potential earnings from a non-sporting event is sometimes double that of a sporting occasion . Nevertheless, preserving the quality of the playing surface area is vital to future sporting events, simply because there is absolutely no point in increasing revenue from an event simply to have to spend that revenue on repairing or replacing the playing surface. Consequently, if a stadiummakes a decision to opt for the non-sporting event route, it will need to cautiously think about which product to purchase for their turf protection.
You can get other products on the market which are significantly less expensive in their preliminary purchase than Terraplas products , nevertheless be cautious , this really is one area in which you 'only get the things you pay for' , and Terraplas products are known to outperform almost all others – by miles !
Terraplas plc is proud of its product durability as well as the indisputable proof of this really is that the old Wembley terraplas ® system is now over 20 years old which is still in use , being rented out by a hire company .
If you buy a Terraplas product you can be assured that you possess the best product available to decrease or even eradicate turf repairs or even replacement, along with a product with an extremely long lifespan – which makes it the effective solution.
Click here to register to get CeSports latest Business Report on doing business in Central Europe & for an overview on the Sporting Goods market in Central Europe.