"Business Partner search for the Sports industry in Central Europe"



You are here »
Home Page
»
News
»
Asia-Europe Rail Traffic Improves to Central Europe
Asia-Europe Rail Traffic Improves to Central Europe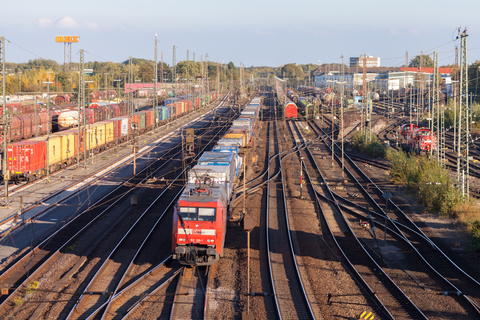 2017-06-20 source own
In April 2013, we saw a new rail line connecting Poland and China which was seen to be a huge step forward for both countries as well as their continents. Suddenly, Europe had easy access to the Asian market and vice versa. With four completed years, we can now assess the effectiveness of the rail and we see that Poland is more popular for traders. Rather than using air or sea, more traders are choosing rail as the more efficient option and this is great news; it has been helped by the conflict between Ukraine and Russia too.

With Poland's new economic roadmap, the profits of the rail can be seen as a success as they continue to contribute. Within the Morawiecki Plan (named after the Deputy Prime Minister and Minster of Economic Development and Finance - Mateusz Morawiecki), there are similarities to the Belt and Road Initiative (BRI) in that investment will increase. However, there is also a close focus on international trade as well as increasing income per-capita.

With the rail travelling between Chengdu and Lodz, traffic has steadily increased since 2013. Not only has traffic improved, we have also seen new lines opening including the Suzhou-Warsaw link (this is actually the very first to launch from a free trade zone). In 2015, we also welcomed the Xiamen-Lodz route which has also enjoyed success.

With all this progression, rail transport is now seen as a 'middle-road solution' between air and freight travel on the ocean. Suddenly, the solution is more attractive than ever before for those traders who can't afford the price of air or time involved with freights. As a regional trans-shipment hub within CEE (Central and Eastern Europe), Poland's position has strengthened over time and this is especially true for those high-value-added products. As mentioned, the conflict between Russia and Ukraine has helped this somewhat since rail services are avoiding the countries completely. Now, Poland is an attractive alternative and the results display this clearly.

Example - As an example, let's say a company wants to move a 40-foot HC (high cube) from Hong Kong to Poland. For this, owners of cargos would typically go for a maritime route which would cost somewhere in the region of $1,800 and a little over a month to reach the end destination. However, Poland isn't the only option here as some may choose to send the stock to Germany, Slovenia, and perhaps even Greece. Whilst Germany and Slovenia cost similar amounts, Greece is cheaper and faster and therefore more popular. In fact, Cosco (Chinese company) recently invested in the port and in the road and rail for the surrounding area.

By sending the cargo to Piraeus in Greece, the goods can be distributed across Poland in addition to the many warehouses and distribution centres across Europe. With the Trans-European Transport Network (TEN-T), there is a crossroads where a direction must be chosen between the North Sea Baltic Corridor and the Baltic Adriatic Corridor; these two routes will lead to different sections of Europe. From Poland, the majority of capital cities can be reached within three days. However, the biggest problem with this method is the cost involved since it requires at least $1,100 just to reach Bratislava, Pardubice, Warsaw, Budapest, and Belgrade by going overland.

On the other hand, it takes just two weeks to get to Warsaw via a direct container train. Nowadays, there has been vital improvements in the network and protocols for customs. In the former Soviet countries - including Belarus, Russia, and Kazakhstan - containers can be moved between broad-gauge and standard-gauge in under an hour and this is perhaps one of the busiest junctions in all of the Silk Road Economic Belt located near the Kazak-Chinese border.

With this speed being an option, there is no surprise rail has gained as much popularity as it has. Often, traders can achieve same-day delivery which is vital for growing an e-commerce business (note that same-day delivery can quickly increase costs to double the price of freight charges). For example, a Shenzhen to Warsaw 40-foot HC would cost in the region of $4,000.

Products - For those wanting to send Hong Kong products to Europe, this 'middle-ground' solution isn't so attractive because of the cost required to truck the products to major European train stations. However, the opposite is true for manufacturers in Hong Kong who directly send across the border to Europe from factories.

As you can imagine, not all products suit the rail option since space is severely limited; whilst each vessel boasts 11,000 containers, a train can only hold around 60. Based in Lodz, one logistics company believes the most profitable rail exports to Europe contain electronics, appliances, medical devices, and auto parts. Moving the other way to China, the most popular products are automobiles, machinery, advanced equipment, and building materials. On Eurasian trains, it seems as though food and beverages have been increasing in popularity of late.

Idle Loading Capacity - Currently, there is a problem known as 'idle loading capacity' with trains going back to China. In order to fix this, both parties have been working hard on solutions with Polish exporters developing relationships with logistics players. Meanwhile, China has been sending sourcing teams to Europe to find products that will be popular back home to fill the containers effectively.

For example, Hatrans Logistics has recently launched a web shop on one of China's most popular e-commerce platforms; JD Worldwide. By promoting food and beverage items, 'Chopin Deli' is receiving orders for spirits, jams, coffee, tea, confectionary, and juices. Furthermore, a showroom located in Chengdu has been offering cleaning materials, lifestyle products, building materials, personal care products, and various other niche products in order to increase interest.

Let's not forget, there are thousands of Chinese and Asian restaurants around Poland and the rest of Europe. In fact, the Association of Polish Butchers and Meat Producers believes there to be at least one outlet in every Polish town with over 95% of ingredients being grown locally. Firstly, this shows that Poland is meeting the demand for high-quality ingredients used by Asian chefs. Secondly, it shows there is potential to send these products to Asian markets. With Asia featuring food quality and safety high on the list of important factors, Poland is moving to meet their demands by offering three national food quality schemes; Pork Quality System (PQS), Quality Meat Program (QMP), and the Quality Assurance for Food Products.

Influenza Outbreaks - At first, there were huge concerns in both Moniecki and Ostrowski regarding the H5N8 avian influenza outbreak. As a result of the disaster, all imports of meat and poultry were halted including meat-related products like eggs. However, around 25,000 tonnes of frozen meat was still exported to Hong Kong in 2016 along with around five million eggs. Therefore, Polish authorities are pleased with their success in the country and it could open the door to more co-operation in the future.

Fruits and Vegetables - Moving away from meats, Poland is also doing well with fruit and vegetables in the Asian market. Of course, Poland is already a leader within the EU for apples, mushrooms, cucumbers, garlic, onions, and berries but now this success is moving farther afield. Around one year ago, President Xi Jingping actually visited Poland and signed an agreement to welcome Polish apples to the Chinese market and they have been selling well despite only being available for around nine months. Nowadays, manufacturers in Asia are more aware of both quality and value for money which has led to the increase in demand for Polish apples, frozen vegetables, cereal, apple juices, and other crops.

With apples performing so well, the hope is that other fruits will start to experience the same progress including currants, strawberries, and raspberries. Furthermore, Poland is the largest producer of blueberries in Europe so farmers are hoping they will soon have unlimited access to the Chinese market. Considering the harvesting season does not directly compete with New Zealand and Latin America (two heavy fruit-producing regions), there is every chance Poland will continue to progress. In Hong Kong, Polish berries were just recently made available and this could be a good test to see how well other fruits could perform in the coming years.

In Poland, the majority of food and beverage companies look to Hong Kong to see where trends will go in the coming period of time. For example, LEI Food & Drinks (Polish manufacturer of food and beverages) has continually paid more and more attention to Hong Kong and is now looking to enter the wider Asian market. With warehouses across Hong Kong, they were welcomed into the country via high-end hotels and now provide top brands with high-quality pressed fruit juices. With the focus on quality rather than any other aspect, the juices are made traditionally with no sugar or preservatives. Additionally, the company is starting to expand on its product offering with apple chips, isotonic drinks, and even sausages as they attend various fairs and trade shows.

Polish Soil - With all of this in mind, many people wonder why Poland is able to provide such high-quality produce but it comes from the clean soil they enjoy thanks to relatively little artificial fertiliser use. In under three years, normal soil can be transformed into organic farming space; in most other European countries, this same process takes up to seven years. Since joining the European Union back in 2004, they have also received financial support which has allowed them to develop high-quality infrastructure for crop storage, food processing, and agriculture.

Sitting behind only France, Poland is now the second largest producer of poultry in the EU and they are therefore admired by many other countries regarding their practices. In particular, their hen house management and automation processes have been shared with farmers all around Europe and this perhaps shows just how highly-regarded their industry is right now.

In the interest of Hong Kong-Polish partnerships, the use of technology is also proving to be a pivotal factor as well as the nutritious and safe foodstuffs being produced. Over the years, Poland has developed a fantastic record of collaboration with other countries and this has led to some of the best technology in the industry. As well as test-bed set-up and solution customisation, they have also benefitted from proof of concept (PoC) trials.

Investment Required - By 2020, experts believe Sino-EU trade will overhaul the $1 trillion mark; just last year, this figure sat at $570 billion which shows the potential in the next three years. Why? Because manufacturers and mainland consumers are both increasing their demand for safe and natural EU products. Moreover, manufacturers are requesting the very best raw materials in order to continue producing their products and this means that Eurasia will soon be ever-more reliant upon the rail transport system. This being said, there are steps that need to be taken before this can happen including investment in infrastructure from overseas investors as well as domestic companies and sources.

Coming back to the Morawiecki plan, this has been a success early on and the profits from Asia-Europe rail traffic has been a huge factor. For the plan itself, it has predicted investment levels of just under $500 billion in the next three to four years. In terms of targets, per-capita GDP should rise in Poland by around ten percentage points from 69% to 79% (of the average in the EU). If these goals are achieved, the variety of imports will improve along with the quality of products.

Also in the plan, they want to see investment increased by five percentage points from 20% to 25% of GDP. With outward FDI (Foreign Direct Investment) expected to increase by a whopping 70%, service providers will have more opportunities around the globe leading to improved investment going both ways; from foreign companies and bodies as well as from Polish enterprises.

Along with progress on an international scale, local action has also been seen with a variety of projects and incentives in order to attract the investment required; with demand increasing, both foreign and domestic investment is needed to improve infrastructure and utilise the current situation. In the Lublin region, we recently saw a huge improvement in the Pomeranian Special Economic Zone (PSEZ). Located near the Polish-Belarusian border, the zone was enlarged and this example describes the ongoing need moving forward.

Strongest Yet to Come - In terms of inbound investment, Hong Kong currently sit in 24th for Poland with a total of nearly $420 million in 2015. Although this seems a little far behind many targets, this places them third for Asian locations with only Japan and South Korea investing more. As investment continues, we are starting to see success for many companies including Hutchinson Port Holdings (now Hutchinson Ports), Cathay Pacific, Orient Overseas Container Line (OOCL), and Kerry Logistics.

Over the past decade, Gdynia has been the hub of much activity and investment for Hutchinson Ports and this has allowed their Container Terminal (GCT) to modernise. Not only this, it is also now better equipped to fulfil the role as feeder port which allows Poland a stronger connection to numerous other European hubs including Hamburg and Rotterdam. For example, two years ago saw the deep-water port development program. With this change in place, the rail terminal was upgraded and vessels of up to 19,000 TEUs could visit.

OOCL, based in Hong Kong and an important member of the G6 Alliance, is known for having a working Asia-Europe service loop and Gdansk has recently been added as a direct port. Above all else, this means Asian companies have the ability to move parts and components to the Polish city for a much lower cost. With this encouragement, Asian companies are likely to utilise the port and the relationship between the two continents strengthens once again.

Moving on to Kerry Logistics, they chose Poznan for their shared service centre (SSC) and this has allowed all customers a smoother access to the CEE (as well as going the other way). After this, they announced a Warsaw office and this opening just a couple of months ago at the beginning of 2017 is their most recent attempt to improve coverage throughout Europe. With these two locations, Kerry Logistics has managed to improve cost efficiency, competitiveness within the market, customer support (freight forwarding), and many other areas of business.

Finally, we have Cathay Pacific Airways (CX) and this area of the industry is still in new waters. Since there isn't a direct flight from Hong Kong to any Polish airports, passengers are forced into a layover but progress has still been made as CX chose Krakow for a new Global Contact Centre. Interestingly enough, Krakow is Europe's most desirable city for outsourcing services and has been for around three years now. Despite this, the move from CX means more than most as they became one of the first Asian companies to settle in Poland. After one year in business, the centre now takes calls from Europe, Africa, and the Middle East whether it regards bookings, website issues, baggage, online check-in, etc; over 120 multi-lingual employees help the centre to run efficiently on a day-to-day basis.

As you can see, the relationship between Europe and Asia is certainly making great strides with investment and trade moving both ways. In the years ahead, this is only expected to improve as customer demand grows in both locations and the correct infrastructure is provided. Whether it falls under Poland's economic roadmap or China's BRI, thousands of project owners are hoping to benefit from the investment and projects we currently see every day.

Freight train image provided by:

© Huettenhoelscher | Dreamstime.com - Freight Train From German Rail, Deutsche Bahn, Drives Through The Freight Yard Photo
Click here to register to get CeSports latest Business Report on doing business in Central Europe & for an overview on the Sporting Goods market in Central Europe.