"Business Partner search for the Sports industry in Central Europe"



You are here »
Home Page
»
News
»
Higher-priced bicycles for Poland
Higher-priced bicycles for Poland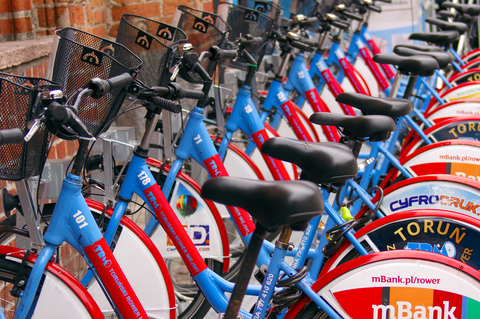 2017-04-04 source own
In 2016, Poland experienced a 10% increase in e-bikes and bicycles and this was helped along by the short winter. However, we have also seen a huge increase in the amount of commuters choosing a bicycle over every other method of transportation.

Even when walking the streets of the cities, it is quite easy to see the increased number of bicycles but this has now been confirmed with official figures. According to one report, the reason for the increase is the time saved since there are so many cars on the road. In Warsaw especially, they have double the amount of registered cars, on average, than Berlin so people are finding it easier and quicker to travel via bicycle. This being said, there is still one big problem to address and this is the lack of cycle networks. Although they are improving, more work needs to be done in the years ahead to attract even more people to this way of travelling.

Thanks to bicycle shops, manufacturers, and importers, we know that more are seeing increases than not; on average, a growth figure of 10% can be calculated. In terms of exports, Poland are extremely competitive on the international market and export over one million units per year which puts them in fifth place. In a recent survey, potential cyclists said that the lack of infrastructure is slightly off-putting as well as the average price which is the eighth highest in Europe at €380. Since most households are being careful with their budgets these days, they don't have this money to spend as well as supporting a vehicle and every other cost. With this in mind, there has been small increases in the second-hand market.

So sales are improving, what about the actual number of bicycles per inhabitant? Well, this is still low but there is potential and this is strong for the city-bike category. Furthermore, high-end MTBs saw growth in addition to road race bikes. In many other countries, e-bikes have seen significant growth and the same can be said for Poland. At the beginning, buyers were cautious with Chinese e-bikes towards the lower end of the market but their true potential is just starting to show and customers seem to be looking at higher-end models now.

Shimano Poland and Dariusz Borowiak have said "We expected that this shift in the market would take more time in Poland than in other EU countries due to the pricing. Though it turned out that the Polish customers highly prefer comfort and that gave a push to the market. Our market survey among 1024 people showed that 24% of the participants would use the e-bike primarily for commuting, 28% would use it for shopping and 33% for recreation. A total of 85% said that they would use their e-bike instead of public transport."

For the Polish manufacturers, they are still trying to spread the message that e-bikes shouldn't be a replacement of traditional models. Instead, they should be used to make long journeys and hilly areas a little easier. At the Kielce Bike-Expo in particular, this was a clear message they wanted to get across.

Back in 2009, the Polish Cycle Association was created to push the market forward and it certainly seems to have worked considering the market was still for some time before this. Nowadays, the association works with importers, retailers, and manufacturers for the betterment of the industry. As well as founding the certification system allowing consumers to know the quality of IBDs, they have also introduced market information and readily-accessible developments for all members.

Image provided by;

© Markjonathank | Dreamstime.com - Bicycles Lined Up To Be Rented In Torun, Poland Old Town Photo
Click here to register to get CeSports latest Business Report on doing business in Central Europe & for an overview on the Sporting Goods market in Central Europe.