"Business Partner search for the Sports industry in Central Europe"



You are here »
Home Page
»
News
»
Review of Slovenian Bicycle Market
Review of Slovenian Bicycle Market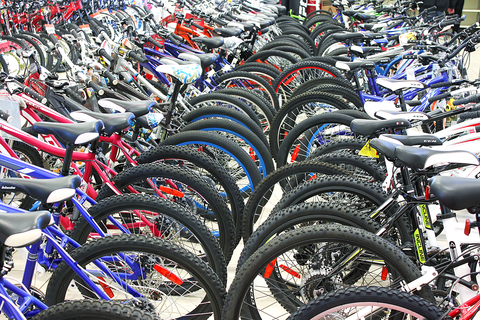 2017-03-22 source own
In 2015, numbers fell slightly for Slovenia when it came to their bicycle market and it looks as though 2016 was a very similar story - the 'e-sector' is still proving to be a saving grace though. However, we can confidently say that the market is changing overall and they seem to be getting closer with Croatia. Overall, big names are entering the market and e-bikes are starting to see interest once again.

In truth, the merging of Croatia and Slovenia shouldn't be a surprise as this is something they have been working on for a couple of years after Croatia became the 28th member of the EU. Nowadays, the big names in the market also seem to share distribution agencies. This being said, the bicycle market in Slovenia is more developed than most other countries when it comes to mid- and high-end units.

Investment - In terms of imports, we saw an increase in 2015 but the recent release of figures for the first two-thirds of 2016 show that this may have fallen once again. For sales, they reached 55,000 units and most exports are proving to be shipments through Slovenia. In the coming years, we could see some interesting changes because many home companies are investing into the market including Gorenje. Recently, they expanded their bicycle department and invested in the Rog trademark license. In addition to this, they have a new facility up and running in Velenje and more plans for OEM manufacturing.

Suppliers - If we look towards the supply of Slovenia's bikes, Austria is the surprising leader closely followed by both Italy and Taiwan. Excluding the Philippines and Cambodia, Slovenia seems to focus on the European market for their supply as opposed to the options in Asia.

Electric Bikes - Despite the lacklustre performance elsewhere, the e-bike sector in Slovenia is really kicking off now and has surpassed every other option as the fastest growing segment. Currently, most of the sales are for Chinese models and the interest seems to be split between eMTBs and urban designs. However, the bikes at a higher price point are struggling to gain interest.

If we take a step back and compare the sales to other countries, it's fair to say that they are still relatively small. However, progress is a good sign and selling 800 models in one year is a big increase and even more units are expected to sell in 2017.

Arrival of Decathlon - Finally, we should mention the impact of Decathlon in Slovenia and this is great news for the industry. As one of the biggest names in the bicycle market, they have one store in Ljubljana at the moment but this allows them to join Hervis, Intersport, and others in the country. If IBDs are to survive, they will have to adjust their models to focus on parts and accessories as well as the brilliant workshop service for which they are known. Additionally, online retailers enjoyed a good year and their accessibility is proving pivotal.

Image provided by;

© Niloo138 | Dreamstime.com - Bicycle Shop Photo
Click here to register to get CeSports latest Business Report on doing business in Central Europe & for an overview on the Sporting Goods market in Central Europe.